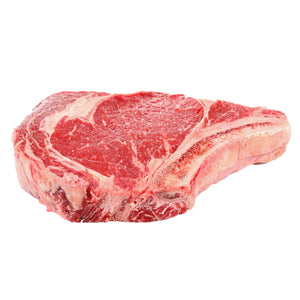 Two rib steaks per package, each steak is 12 oz. - 16 oz. (approx. 1.5-2.0 pounds total).
Rib steaks are bone-in ribeyes. They are juicy and full-flavored. They are cut from the ribs.
Rib steaks are great for grilling and smoking.
Meat is sold per package not by weight, all weights are approximate.
All orders are to be picked up at our farm location.
Due to food safety concerns shipping is unavailable. 
All meat is frozen and individually packaged in vacuum-sealed bags.